Green Cleaners is Singapore's leading eco-friendly cleaning service and we are now excited to launch in Australia, with our Adelaide office and be your solution for a healthier household for the people you care most about. We are known for offering the highest standards of professional cleaning to protect your health without harming the environment, therefore creating a healthier home and a better environment for you and your loved ones.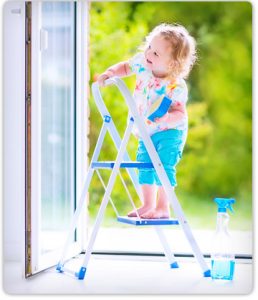 Many ingredients in some of the most common household cleaning products are potentially harmful to our health but most consumers are unaware of the danger. Usage of such products may cause acute effects such as respiratory irritation, headache, sneezing, and watery eyes.
This is why Green Cleaners since its inception in 2009 has been committed to only using non-toxic, environmentally-friendly cleaning products and equipment that aid in reducing human health risks at home by limiting one's exposure to harmful chemicals. Our offerings appeal to both environmentally responsible customers, and health conscious consumers such as asthma and allergy sufferers, expectant mothers, families with toddlers, and pet owners.
Our clients and their families who suffer from asthma, allergies or chemical sensitivities have noticed almost immediate results in adopting a green cleaning service and products in their home. It's always highly rewarding for us to receive testimonials on how we've helped to improve our client's well-being and these are proudly displayed on our Testimonials page.
To cater to such a wide range of residential and commercial customers, we provide a number of effective, and flexible cleaning packages, often specifically tailored to the individual client. This can extend anywhere from a one-off 'spring clean' to a once-weekly, twice-weekly, twice-monthly, or even once-a-month service for clients that would like additional assistance occasionally.
In the commercial sector, businesses continue to outsource their cleaning so they can focus on their core activities. Through this, Green Cleaners have found ourselves in a winning position to capitalize on the global push towards Green and Sustainable business practices that is driving the market for environmentally friendly cleaning methods. Creating a toxic free working environment continues to be incredibly successful in improving productivity levels at work and reducing sick days and operational costs.
For households that prefer to do their own household chores, there is still an opportunity for you to improve your home environment by switching to Green Cleaners' range of six carefully selected, ultra-concentrate green cleaning products. This includes the All Purpose Cleaner, Wood Cleaner, Shower & Bathroom Cleaner, Window Cleaner, Toilet Cleaner, and Dishwashing Liquid. Each of these products are specially developed formulas that are biodegradable and non-toxic.
The Green Cleaners brand represents an individual's ability to make a conscious, personal and enlightened choice about quality of life today and the desire for a better future.
We have steadily built a strong reputation over the past five years as the leading professional eco-friendly cleaning service, and supplier of eco-friendly cleaning products. Demand for our services continues to increase, with clients ranging from those in landed properties and condominiums to kindergartens, offices, gymnasiums and hotels.
In addition to our services and products, we also use our social media platforms and monthly e-newsletters to keep our customers updated on tips and advice for a green household. We are taking the first steps to a better environment by actively encouraging our clients to adapt to a 'greener' lifestyle across their social media platforms and raising awareness through educational talks and events, while creating a more sustainable and environmentally responsible future for Australia.
Private vs. Green Cleaners
If you are thinking of hiring a private cleaner, for your protection and peace of mind, click the link below to learn some important questions to ask.
Who to choose
Download our printable list of 10 key questions to ask when deciding which house cleaning service to use.
Green Cleaners Company Vision
Green Cleaners is a company where the genuine care and wellbeing of our clients and staff is our highest mission. We pledge to provide the best service and cleaning standards to protect health, without harming the environment for our clients who will be highly satisfied by our delivery and want to share their experience with friends, colleagues and family members.
With the world changing rapidly, we need to realise that our legacy will carry on for many generations, and that we should immediately take the actions which reflect our desire to create a positive and far-reaching ripple effect well into the future.
At Green Cleaners, our vision for the company is to serve our clients' needs through trust, reliability, and ethical values, together with an unwavering passion for excellent customer service.
We are dedicated to making a positive difference to you, your family and our planet through responsible practices and we strive to enhance your all round lifestyle by reducing toxins in your home. Green Cleaners can reduce the stress and time spent on household chores, allowing you to concentrate on the more important things in your life. We sincerely hope to inspire others to take individual action toward a common and collective goal of making a difference to our Planet Earth and wellbeing.
Green Cleaners Adelaide
Green Cleaners Adelaide
502 Lower N E Rd,
Campbelltown, 5074
Australia